Cardano (ADA) entered 2023 with a positive momentum, bringing with it the success of the best cryptocurrency protocol with development activity in 2022.
Cardano trading volume is at 2-month high!
Since Dec. 30, Cardano has increased by over 30% since 28 new addresses of 1 million ADA or more have been registered on the network as more crypto traders, especially among large-scale investors, become interested in price action.
The behavioral analytics platform noted:
"Trade volume reaches 2-month high, including increased large whale transactions."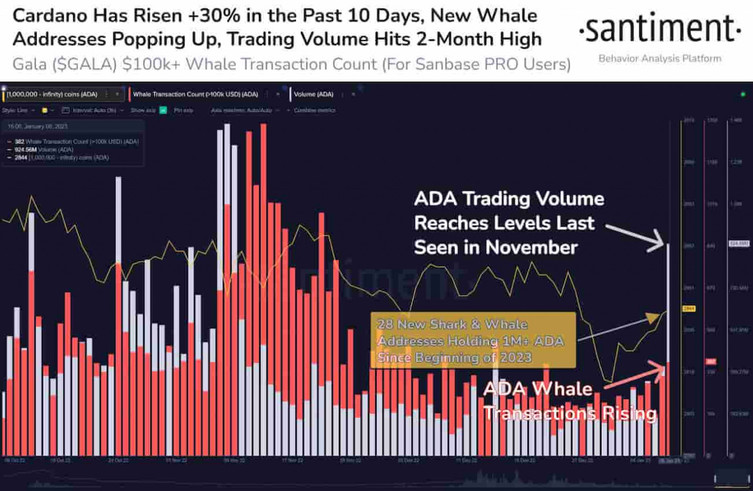 Cardano trading volume. Source: Santiment
Indeed, since the start of 2023 there have been 28 new shark and whale addresses holding 1 million or more ADA, and the number of transactions is growing.
Cardano price analysis
On January 9, $1.5 billion had flowed into Cardano in just 24 hours as the decentralized finance (DeFi) asset continued to witness increasing buying pressure.
Currently, Cardano is changing hands at $0.317, down 3.24% on the day but up 24.59% from last week, with a total market cap of $10.94 billion.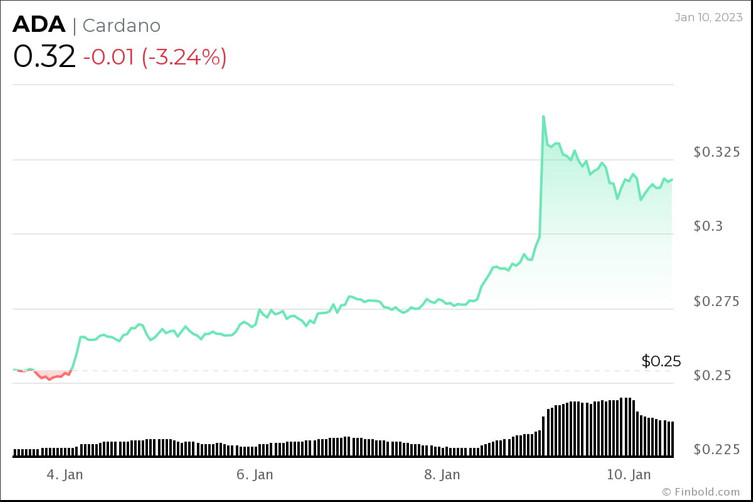 Cardano 7 day chart. Source: Finbold
A position that breaks the $0.30 resistance level could act as a critical anchor towards ADA, which is moving to reclaim the critical $0.50. However, Cardano still faces uncertainty if investors start making profits.
It is worth noting that ADA has generally acted in line with the overall crypto market; therefore, the current uptrend can be attributed to the market's recent short-term gains. For example, machine learning algorithms on crypto tracking platform PricePredictions predicted the ADA price to be $0.2756 on January 31, 2023, according to data received by Finbold on Jan.
bullish factors for ADA
As the platform sees steady growth in smart contracts, ADA's momentum can be attributed to several reasons, with network expansion being one of the most important. For example, as of January 8, the total number of Plutus smart contracts was 4,803, and 780 smart contracts were added in December alone.
Also, the first quarter of 2023 is expected to see the launch of two stablecoins on the Cardano network: the first is the centralized stablecoin USDA, which will be an asset backed by the US dollar. The second is the highly anticipated stablecoin Djed, a token co-created with Coti.
Disclaimer: The content on this site should not be considered investment advice. Investment is speculative. When investing, your capital is at risk.