Despite markets currently experiencing a drastic correction, the number of retailers willing to accept cryptocurrency payments continues to grow with the steady increase in the volume of online crypto purchases in the e-commerce sector.
Crypto payment volume in e-Commerce exceeded 60% in 2022!
As a matter of fact, cryptocurrency payment processor CoinGate discovered in its research report published on Jan. 4 that despite the "crypto winter", the use of cryptocurrencies for online transactions is increasing in 2022.
The research shows that in 2022, merchants using CoinGate received 927,294 crypto payments, which is about 2.7 times the annual average and represents a 63% increase over 2021. This figure is equivalent to CoinGate processing a paid cryptocurrency order every 34 seconds.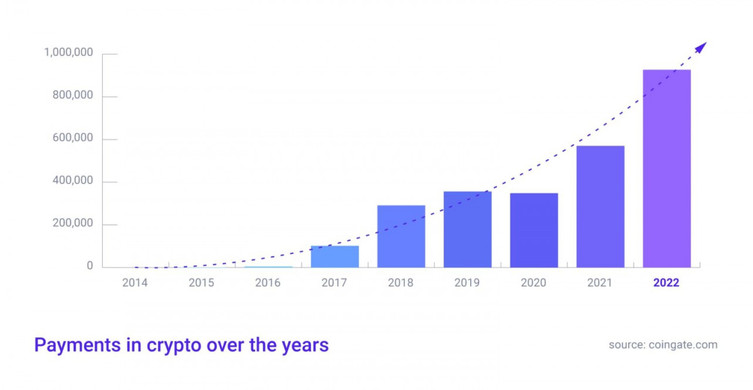 CoinGate payments include crypto every year. Source: coingate.com
Bitcoin is the most popular crypto for payment
According to research findings, Bitcoin (BTC) was responsible for more than half or 48% of all transactions in 2022. Notably, it's 7.6% lower than in 2021, suggesting that altcoin payments marginally diminish Bitcoin. dominance in payments despite the increasing number of transactions.
USDT became the second most popular cryptocurrency used for shopping with a dominance of 14.8% in 2022. It was followed by Ethereum (10.9%), Litecoin (9.6%) and TRON (5.8%).
Despite the overall decline in the market, CoinGate saw a 48% increase in the number of new registered traders in 2022 compared to 2021. This includes industry giants like NordVPN on the list of businesses willing to accept cryptocurrency payments.
Retailers adopting crypto payments
Every year, the most popular argument put forward by retailers for accepting cryptocurrency payments is the same: improving access to services for consumers who don't have a bank account or are concerned about their privacy, which eventually leads to increased sales.
Since modern payment processors reduce the problem of crypto price volatility by allowing fast payments in fiat currencies, there are several reasons why merchants looking for creative ways to boost their companies should not consider implementing crypto payments.
In particular, in December, CoinGate CEO Justas Paulius revealed in an exclusive interview with Finbold that the frequency of paying with cryptocurrency has not changed due to the cryptocurrency winter, it has changed "a bit" rather than reducing the frequency of people's purchases.