Known as Trump Digital Trading Cards, former US President Donald Trump's unparalleled collection of tokens (NFTs) are currently owned by a total of 15,075 holders, which equates to a 34% unique owner rate.
Donald Trump's NFT cards have lost 80% of their value! – Why is that?
The value of the recently launched NFT line has dropped 78% as its base price fell from 0.84 Ethereum (ETH) to 0.186 ETH on December 18, according to OpenSea's December 30 data.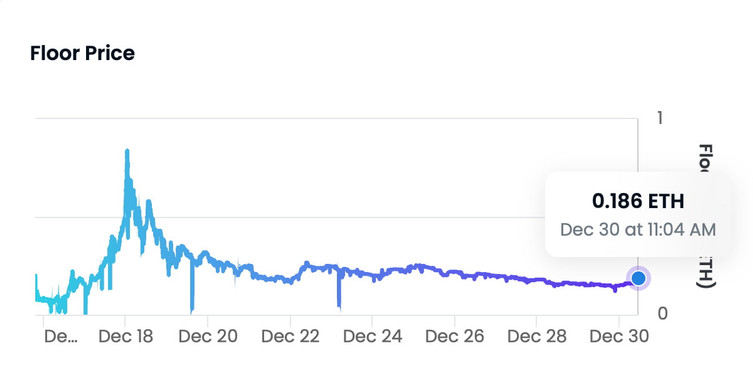 The base price of Trump Digital Trading Cards. Source: Offshore
Many of the cards were resold after the first run and their value rose to 0.82 ether, or $999. Last week, volume dropped by 380 ETH (-95%), sales dropped by 1,564 (-93%) and the base price dropped by -11%, but overall, each card has gained significant value since launch.
Original cost of $99 per NFT
On December 15, Trump released his collection with a total of 45,000 NFTs that could be printed during the Lottery Entry Period. During the introductory period, each NFT costs $99. All playing cards were purchased within hours after Trump introduced "one-of-a-kind" assets.
Each card depicts Donald Trump as a different hero figure, such as a sheriff, explorer, superhero or NASCAR racer. NFT International LLC is the company that owns the NFT line, and the company has made it clear that former President Donald Trump "does not own, manage or control" in any way.
At launch, the firm managed to bring in $4.45 million thanks to the sale of NFTs for $99. Considering that the current volume of the project at the time of writing is 7,765 ETH, NFT International LLC also takes a 10% cut on each transaction, which corresponds to over $1 million in revenue.
Within days of its release, the base price began to drop, in line with widespread criticism against the NFT line for issues such as internal printing, licensing errors, and alleged design duplication. It is worth remembering that Trump has not always been so open to the crypto industry."
Disclaimer: The content on this site should not be considered investment advice. Investment is speculative. When investing, your capital is at risk.