Although AnTuTu is far from its popularity in the old days, the famous platform continues to make a name for itself with its monthly top lists. In the last list shared by the famous performance platform, the answer to the question of which is the fastest mid-segment smartphone in the Android world was sought.
When we look at the name at the top of the list, we see that the iQOO Z6 welcomes us here. The smartphone, which participated in the test with the Snapdragon 778G + chipset and 12GB / 256GB hardware, was the only phone to exceed the psychological limit of 600 thousand and completed the test in the first place with a score of 600,109. In the second place, we see the Honor 80 with a score of 583,635, which, on the other hand, used the chipset preference of Snapdragon 782G.
The king of mid-segment smartphones has been announced
Let's remind you that this phone is powered by the Snapdragon 7 Gen 1 chipset and comes with 8GB / 256GB units, while the Xiaomi Civi 2, which is in third place, scores 573,231. The list goes on like this, but when we look at the smartphones in the top 10, a very interesting detail is not overlooked.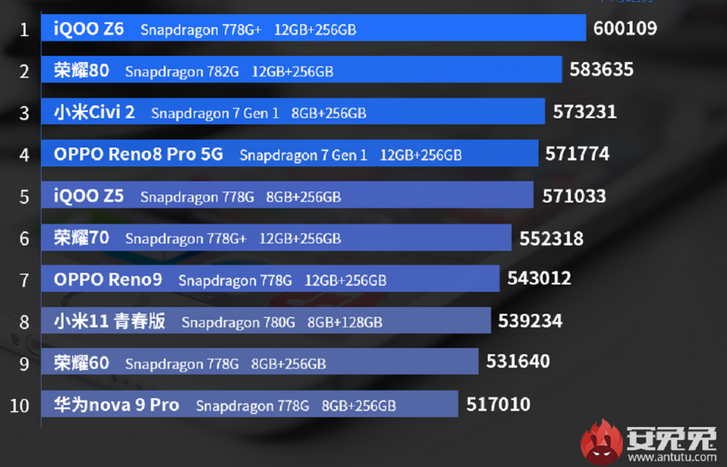 All of the devices in the list of mid-segment smartphones with the fastest Android operating system shared by AnTuTu are powered by Snapdragon models. In other words, no names from Qualcomm's biggest rival, MediaTek, are included in this list. Of course, this indisputably reveals who is ahead of the competition.